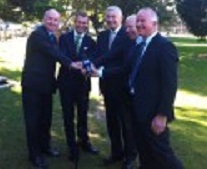 Algae.Tec inked a deal with Australia's largest power company that will feed the waste carbon dioxide from a 2640MW coal-fired power station near Sydney to algae to eventually turn into biodiesel. Owned by the New South Wales government, the Macquarie Generation Bayswater coal-fired power station, one of the largest in the world, will use an enclosed algae growth system.
"This deal is an innovative means of capturing and reusing carbon emissions and providing the Hunter region with a locally produced green fuel source," [NSW Energy Minister Chris] Hartcher said.
Macquarie Generation CEO and Managing Director Russell Skelton said:
"Our agreement with Algae.Tec is another example of MacGen finding creative ways to improve our business and improve our environmental performance."
"Its new technology is improving a traditional power plant."
"At a time when all the petroleum refining capacity is closing down in NSW, this is the beginning of an era of renewable fuel which can be "grown" in the State and can substitute imported petroleum products," said [Algae.Tec Executive Chairman Roger] Stroud.
In addition to taking the CO2 out of the environment and creating green fuel, Algae.Tec officials point out the deal creates hundreds of jobs in that area.