July 1, 2013 has now become "Independence Day" for Iowa fuel retailers as today marks the enactment of a new Iowa law that frees Iowa retailers from some Big Oil restrictions.
"Today, new liberties go into effect for Iowa's fuel retailers. They now have the freedom to offer the fuel options they choose, not what Big Oil dictates," said Iowa Renewable Fuel Association (IRFA) Executive Director Monte Shaw. "These new protections amount to a 'Retailer Bill of Rights,' providing relief from Big Oil's heavy handed, branded contracts that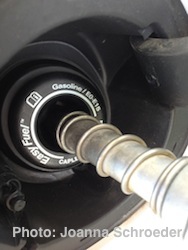 often dictate if and how retailers offer certain fuels, like E15 and E85."
H.F. 640, which takes effect today, includes language that prevents oil refiners' supply agreements from directly or indirectly limiting the ability of local retailers to offer the ethanol and biodiesel blends they choose. The provisions are based on a law enacted in South Dakota in 2011 and addresses specific, anti-competition provisions from refiner supply agreements.
As a result, new supply agreements will not be allowed to:
Restrict installing a blender pump;
Restrict using current equipment from offering higher blends, like E15, E85, and B20;
Restrict ethanol or biodiesel blends from being advertised;
Restrict the locations where a retailer may offer the higher blends (like under a canopy); and
Restrict payment for higher blends to cash only (no credit cards).
"While protecting Big Oil trademarks, this piece of legislation not only gives Iowa retailers more freedom to offer the ethanol and biodiesel blends they choose, it also allows Iowa's consumers greater access to low-cost, homegrown, renewable fuel options," added Shaw. "More ethanol and biodiesel blends at the pump equates to greater fueling freedom, American jobs and American energy security—all great things to celebrate on Independence Day."