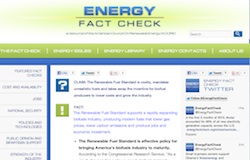 True or False? Natural gas is an approved alternative fuel under the Renewable Fuel Standard. False.
It's questions like these that arise as the debate around the RFS heats up. But minus having your own personal RFS assistant at your beck and call, the next best option may just be the new Energy Fact Check site created by the American Council on Renewable Energy (ACORE).
CLAIM: The Renewable Fuel Standard is costly, mandates unrealistic fuels and takes away the incentive for biofuel producers to lower costs and grow the industry.
FACT: The Renewable Fuel Standard supports a rapidly expanding biofuels industry, producing modern fuels that lower gas prices, lower carbon emissions and produce jobs and economic investment.
This is just one example of the type of questions and answers you can find on the site.
In addition to information on the RFS, the website covers energy issues including costs, deployment, investment, jobs and national security. The website also has energy industry contacts and an energy library.
Click here to check out Energy Fact Check.