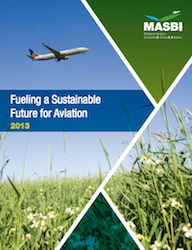 The commercial aviation industry has a clear path toward cleaner, more economical and more secure energy alternatives through the increased use of advanced biofuels developed in the Midwest, according to a report issued by the Midwest Aviation Sustainable Biofuels Initiative (MASBI). The report was produced following a yearlong analysis of the benefits that could be delivered from a robust sustainable aviation biofuels industry in the Midwest.
Noting the progress made in developing biofuels, including its use on more than 1,500 commercial aviation flights globally, the coalition agreed that more must be done to achieve the sustainable production of commercial-scale and cost-competitive advanced biofuels from sources such as non-food crops and waste products and issued several recommendations:
Streamline the approval process for new biofuel production methods;
Level the policy playing field for advanced biofuels with the conventional petroleum industry;
Tailor agriculture products such as oil-seed crops for jet-fuel production;
Improve biofuel production through agricultural innovation; and
Pursue deal structures that balance risk and reward for early adopters of technology.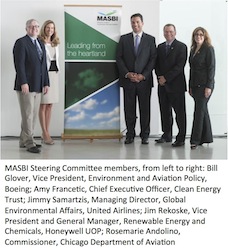 "We've been developing a new industry – one that has the ability to reduce carbon emissions, create green jobs, drive innovation in clean technology and bolster the successful future of the airline industry which is vital to communities all around the world," said Jimmy Samartzis, managing director of global environmental affairs and sustainability for United Airlines. "We need to focus on this today, so that we can have these options tomorrow as we build a more sustainable future."
Expanding the availability of sustainable aviation biofuels will have clear business benefits for the airline industry and the broader Midwest economy. From 1990 to 2012, fuel costs increased by 574 percent and are now the single largest expense for commercial aviation, accounting for up to 40 percent of an airline's operating budget. Commercial aviation spends $6.3 billion on jet fuel a year for flights originating in the Midwest. MASBI estimates that replacing five percent of petroleum jet fuel in the Midwest with aviation biofuel would create more than 3,600 jobs and reduce carbon-dioxide emissions by 700,000 tons.
"The Midwest can be a leader in this effort because it boasts the experience, technological innovation, and resources to do so," said Samartzis. "The impact of MASBI goes well beyond the Midwest and influences the development of the advanced biofuels industry nationally and globally."