Today is Iowa Swine Day (June 27) and the Iowa Renewable Fuels Association (IRFA) is taking a time to show how renewable fuels production is boosting the profitability of raising hogs in Iowa.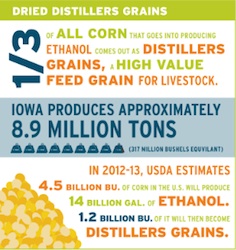 "On Iowa Swine Day, it's important to remember that a strong renewable fuels industry means a strong hog industry here in Iowa," said IRFA Executive Director Monte Shaw. "IRFA members have developed solid relationships with Iowa's pork producers and the numbers show it. Whether it's purchasing choice white grease for biodiesel production or supplying affordable distillers grains for feed, Iowa renewable fuels and Iowa pork production have a symbiotic relationship."
IFRA says that ethanol production helps Iowa pork producers by providing an affordable, high protein feed called distillers grains (DDGS). The U.S. Department of Agriculture (USDA) and ProExporter Network recently noted that Iowa hogs are the number one in-state consumer of DDGS, utilizing approximately 1.2 million tons of each year.  This represents 61 percent of in-state DDGS consumption.
In addition, biodiesel production not only lowers the cost of soybean meal, it also increases the value of animal fats benefiting Iowa's pork producers. A recent study by Cardno ENTRIX found that an Iowa hog producer realizes a $4 per head boost in profitability because of Iowa's biodiesel industry. Therefore, an Iowa farmer raising both crops and hogs would see nearly a 20 percent increase in net income because of Iowa biodiesel production.