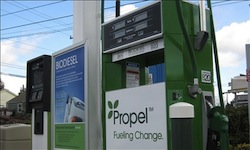 Propel Fuels is not just selling biodiesel and ethanol, alternatives to non-renewable petroleum, but it is doing it in an alternative fashion. This article from Convenience Store News says the California-based purveyor of the green fuels is doing something a bit different at most of its locations in California and Washington State.
At 36 of the locations, Propel partners with existing gas station retailers to operate its renewable fuel pumps at their stores. These pumps, which Propel calls a "Clean Fuel Point," reside under a single canopy and are branded with the Propel name.
Propel pays rent to the station owners in return for the fuel sales from its pumps. Since Propel offers pay-at-the-pump technology, once a consumer turns on its pump to buy E85 or biodiesel, Propel — not the convenience store operator — accepts the payment and processes the transaction. All other fuel transactions at these 36 stores are handled by the c-store operator.
"The thinking in America is changing. The vehicles we have are changing as well. Those two things together helped with the idea to form a different type of fuel company that's focused on bringing renewable fuels to the marketplace," Chris LaPlante, director of marketing for Propel, told CSNews Online.
The two other Propel locations, in Fresno and Fullerton, Calif., are owned by Propel and have been dubbed "Clean Mobility Centers." While the locations also sell petroleum-based gasoline, they also let customers buy a carbon offset of $1 a tankful right there at the pump.
So far, Propel's blueprint seems to be one for success or at least growth. This year, they've added nine sites to their retail network, with more on the way soon. The article says Propel is even considering getting into the compressed natural gas and electric vehicle charging station markets.