The POET-DSM Advanced Biofuels' first commercial cellulosic ethanol plant is on track to start in 2014. The announcement for the plant was made at the recent Fuel Ethanol Workshop (FEW) in St. Louis, Mo., where Wade Roby from POET took part in a panel discussion.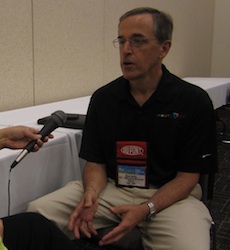 Steve Hartig, General Manager for POET-DSM, talked with Joanna and said Project LIBERTY, currently under construction and co-located with POET's grain ethanol plant in Emmetsburg, Iowa, will turn bales of corn cobs, leaves, husks and some stalk into 20 million gallons of cellulosic ethanol each year, with plans to move that amount up to 25 million gallons.
"We're in the middle of construction, so we have a lot of the concrete done, the large biomass building, a lot of the tanks for the fermentation are up and running, and basically we're on schedule to start up end of first quarter, second quarter next year," Steve said.
He said they've been working with the local farmers over the past five years on how to collect and bring in the corn stover biomass, bringing in 70,000 tons last year and expecting to bring in 120,000 tons this year and up to 250,000 tons next year. Steve points out that the biomass can be stored out in the weather for at least a year, and he defends against criticisms that they are taking valuable nutrients off the field.
"The fields with the high productivity, high-yield corn crops, you have about five tons of stover per acre that's left on the field after the harvest. We're taking about one ton of that," and citing their work with Iowa State University, he said that taking some stover off the field is actually good for it. "If we can take a bit more we will, but we'll do it slow, steady and in a conservative way, working closely with the farmers and local universities."
Steve said they're building this plant together with DSM, and that's the model they're carrying forward – taking the technology to other companies and partnering with existing facilities, especially corn ethanol plants, and he believes they could even take the technology internationally.
Finally, he concluded that they have learned a lot building this plant and look forward to their next project going up next year. And they're sticking with cellulosic ethanol.
"Cellulosic ethanol is real. It's been called the 'fictional fuel,' [but] big companies like ours are putting a lot of commitment to it."
Listen to more of Joanna's interview with Steve here: Steve Hartig, General Manager for POET-DSM