The House Energy and Commerce Subcommittee on Energy and Power held a hearing Wednesday on the "Overview of the Renewable Fuel Standard: Government Perspectives." The hearing featured testimony from the Energy Information Administration (EIA), U.S. Department of Agriculture (USDA) and the Environmental Protection Agency (EPA).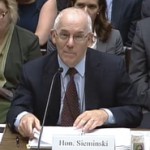 Adam Sieminksi with the EIA, made several points during his testimony regarding the RFS. "The RFS program is not projected to come close to achievement of the legislated target that calls for 36 billion gallons of renewable motor fuels use by 2022," he noted first, adding that "Substantially increased use of biofuels can only occur if they can be used in forms other than the low percentage blends of ethanol and biodiesel that account for nearly all of their current use."
Read Sieminski's testimony – listen to opening statement here: Adam Sieminksi, EIA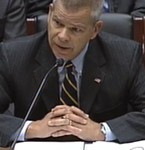 Christopher Grundler, Director of EPA's Office of Air and Radiation, noted that the agency has expanded the number of approved fuel pathways to help meet the RFS "including the recent finalization of a rule that includes certain renewable fuels from camelina, ethanol from energy cane, and renewable gasoline from various feedstocks" adding that they have also "proposed a rule that will expand the opportunity for use of additional new advanced biofuels, including cellulosic fuels from landfill biogas and advanced biobutanol from corn."
Read Grundler's testimony – listen to opening statement here: Christopher Grundler, EPA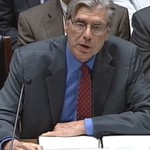 USDA Chief Economist Dr. Joe Glauber focused his testimony on the impact of the RFS on agriculture. "Driven by a combination of favorable market forces and government biofuel policies, including the RFS, the increase has spurred corn production and corn use for ethanol and has been one of the factors in the recent grain price boom and overall improvements in farm balance sheets including record farm incomes over the past few years," said Glauber. Noting that while livestock, dairy and poultry producers have "faced more uneven, and in some cases, declining returns" since 2005, Glauber said the ethanol co-product DDGS has increased as a livestock feed and USDA anticipates pressures on corn prices to continue to mitigate as more alternative feedstocks are used for biofuel production.
Read Glauber's testimony – listen to opening statement here: Joe Glauber, USDA