Syngenta and its Enogen brand will be the presenting sponsor for the NASCAR Camping World Truck Series at the Newton track on Saturday, July 13, 2013. The American Ethanol 200 presented by Enogen is a 200 lap, 175-mile event over Iowa Speedway's 7/8 tri-oval featuring 36 NASCAR drivers racing with to win fueled by E15.
"We are thrilled to welcome Syngenta as the newest member of our family of promotional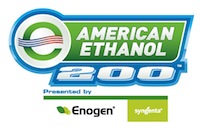 partners," said Chuck Spicer, Iowa Speedway Vice President of Sales & Marketing. "We are especially proud that, given Enogen's initial success in the ethanol production marketplace, Syngenta has chosen our 'American Ethanol' event to promote their unique brand of seed corn."
Enogen corn features a corn output trait bio-engineered specifically for ethanol production. Syngenta says this technology helps drive dramatic process improvements in dry grind ethanol production and is delivered through a high-value grain system that has the potential to greatly benefit growers, local communities and the renewable fuels industry.
"Syngenta is excited about this opportunity to come together with key partners and show our support of American Ethanol," said David Witherspoon, head of renewable fuels at Syngenta. "We understand the significant role ethanol plays in driving economic growth and creating value for our nation and in our rural communities. We are truly honored to be a part of this race and are committed to the long-term success of the ethanol industry."