Nine university teams will race in the 2013 Formula Sun Grand Prix (FSGP) with solar vehicles powered by SunPower's Maxeon solar cells. Various FSGP race events will be held from June 24 – 29, 2013 and are open and free to the public.
According to SunPower, the all-back contact solar cells collect and convert more sunlight into energy when compared to cells with contacts on the front. This all-back contact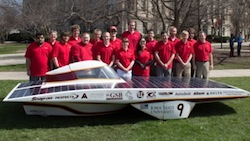 allows SunPower cells to generate maximum solar power when applied to limited surface areas found on some rooftops, as well as on the hoods of FSGP racecars.
"SunPower's solar technology continues to be the choice for innovative projects that blaze new trails for renewable energy solutions," said SunPower CEO Tom Werner. "SunPower cells fueling the Formula Sun Grand Prix cars, and the Solar Impulse airplane that recently journeyed above Texas, utilize the same solar technology that power residential rooftops, commercial applications and power plant installations around the globe."
Of 12 university teams that registered to compete in this year's FSGP, nine chose to build and race their solar vehicles with high efficiency SunPower Maxeon solar cells including: Illinois State University; Iowa State University; Missouri University of Science and Technology; Northwestern University; Oregon State University; Principia College; University of Texas at Austin; University of Waterloo; and Western Michigan University.
The FSGP is an annual, three-day race where university teams from around the world challenge their solar vehicles to successfully handle curves, braking and acceleration on a grand prix-style course. This year's event will be held in Austin, Texas at the Circuit of The Americas™ on an official Formula 1® racetrack for the first time in FSGP history. The University of Texas at Austin Solar Vehicles Team from the Cockrell School of Engineering will act as local university host.
SunPower is an official sponsor and employees will be onsite to assist with race-day logistics.