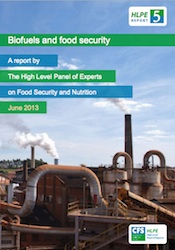 Several new studies have been released on biofuels and investment needs of small-scale farmers released by the High Level Panel of Experts (HLPE) of the Committee on World Food Security (CFS). Report no. 5: Biofuels and Food Security finds that world biofuel production increased five-fold in the decade between 2001-2011. As a result, the report attempts to identify the impacts that biofuel policies and the development of biofuel markets are having on food security.
The report studies several specific issues including:
To what degree does the sector divert crops from food to fuel?
How does biofuel production factor into high food prices?
Is the biofuel development model pro-poor?
What are the implications for land availability and use and what do they mean for rural communities and the environment?
Report no. 6: Investing in Smallholder Agriculture for Food Security looks at how to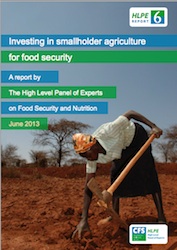 promote greater investment in small-scale agriculture. This study finds that "a vast majority of the hungry people in the world are, paradoxically, small farmers" and calls for a "new deal" for smallholder farmers. This type of farmer constitutes the majority of farm families in the world and make crucial contributions to household, national and global food security.
The report examines:
The diversity of smallholder agriculture in the world
The constraints to investments
What types of investments are needed at farm and broader levels
It also proposes the development of national strategies for investment in smallholder agriculture.