XIOLINK LLC, has completed the first phase of the installation of an advanced solar electricity system to provide sustainable energy to its downtown St. Louis, Missouri headquarters. The building has become one of the first in the city's central business district to install solar panels. The full solar system will be completed by Labor Day.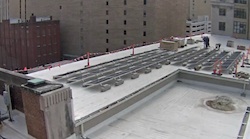 "We're committed to using innovative, sustainable solutions that benefit the environment as well as our business operations, and the addition of solar energy not only helps us reduce our carbon footprint but positively impacts our bottom line," said Brad Pittenger, co-founder and CEO at XIOLINK. "It will also enable us to invest the green energy savings into better serving our clients and continuing to develop our outstanding IT professionals at XIOLINK."
St. Peters, MO-based SunEdison manufactured the Silvantis Solar Photovoltaic modules that were used with the design and installation completed by Brightergy. The solar panels will supply power for XIOLINK's offices and network operations center.
With the addition of solar energy, XIOLINK remains committed to using smart technologies to reduce environmental impact, as well as maximizing resources and efficiency. Last year, XIOLINK was named one of St. Louis Business Journal's "Heroes of the Planet".