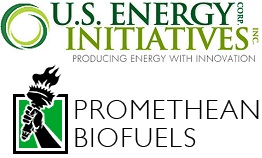 Automotive and hybrid fuel systems and technologies developer U.S. Energy Initiatives Corp. Inc. and California-based Promethean Biofuels signed a biodiesel production agreement that will bring Promethean's facility to its maximum capacity starting in a couple of weeks. Biodiesel Magazine reports Promethean could produce 2.1 to 3 MMgy, and the two companies could split the revenues which could top $6 million a year:
"This is a significant milestone for USEI and it is an immediate entry into the fuel production arena," said USEI CEO Anthony Miller. "This agreement provides us with significant revenue beginning next month. Promethean is a first class operation and has been operating profitably from the beginning. This relationship just allows the plant operate 24 hours a day, seven days a week well above current levels."
Todd Hill, managing principal of Promethean, said, "Promethean is proud to partner with U.S. Energy Initiatives, to help meet California's mandated requirement for biodiesel under the low carbon fuel standard (LCFS). In the next few months we will ramp up towards our nameplate capacity and generate significant capital. This venture is part of an ongoing and carefully coordinated plan that Promethean has planned throughout 2014."
USEI says this is just one of many relationships it intends to create this year.