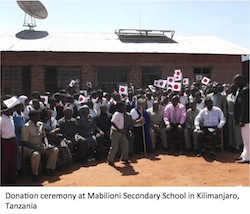 Kyocera Corporation has donated solar power generating systems to four secondary schools in Tanzania and three primary schools in Uganda. Donation ceremonies were held at the schools in Kilimanjaro, Tanzania and Bushenyi (Uganda) during which Kyocera executives shared hopes that the solar systems would improve the schools' infrastructure and contribute to the students' educational development.
In Tanzania, ceremonies were held at two representative schools in Kilimanjaro: Vumari Secondary School also attended by His Excellency Mr. Masaki Okada, Japanese Ambassador to Tanzania, and Mabilioni Secondary School. They were warmly welcomed with music and dances by the students, their parents and other people from the community. Donations in the last fiscal year also included Kirangare and Tae Secondary Schools.
In Uganda, ceremonies took place at all three schools in Bushenyi: Nyakarama Boarding Primary School, Ryakasinga Model Primary Boarding School, and Rweigaaga Day & Boarding Primary School, with the attendance of Mr. Yukihisa Nakano, First Secretary of the Embassy of Japan in Uganda at the first two schools.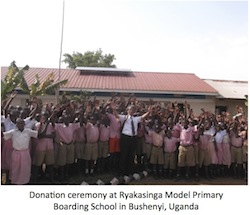 The installations are part of larger donation projects that have been ongoing since 2009, in which Kyocera has been providing solar power generating systems to schools in Tanzania and Uganda that have no access to the electricity grid. The five-year projects consist of 600-watt solar power generating systems for 35 schools in total, each with storage batteries as well as basic equipment such as lamps, TV sets and radios — lighting up the classrooms and diversifying learning activities for the students.
In addition, the solar systems are occasionally used as an electricity source for the people of the community to charge their mobile devices. With additional installations at seven schools in the last fiscal year, donations have already been made to a total of 28 schools, with seven more to follow by March 2014.