The City of Santa Clara is aiming to become more sustainable and has set a goal of installing 30 megawatts of customer-installed solar power by 2017. With a grant from the American Recovery and Reinvestment Act (ARRA) several projects included solar power including a new solar project at Henry Schmidt Park. Vista Solar, who managed the project, selected SunPower solar panels for the rooftop project.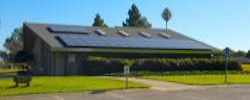 In one week, Vista Solar finished the project on-time and on-budget. "Working with Vista Solar went really smoothly. We had great communication from Vista Solar, and we are really happy with our solar system," said Mary Medeiros McEnroe, Public Benefit Program Manager for the City of Santa Clara.
Henry Schmidt Park's lighting, internal electric baseboard heating, and other electrical appliances are now being powered by solar energy. The City of Santa Clara is turning to Vista Solar again for a 125 kW solar system at the Jenny Strand Solar Research and Development Park.