Thousands of students in Rio Rancho, New Mexico will now be learning with solar power. Conergy is currently installing two solar power plants on the campuses of V. Sue Cleveland and Rio Rancho High Schools. The solar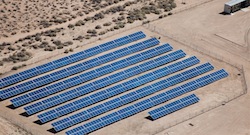 installations will total 1.2 megawatts (MW). The public schools will be using the power produced by the sun, via a 20-year Power Purchase Agreement (PPA) with Washington Gas Energy Systems.
"We are very proud that our two high schools will be supplied with renewable power and that we will be making a valuable contribution to sustainability in our community," said Al Sena, responsible for building management at the Rio Rancho public schools. "This will allow our students to experience the benefits of clean power generation, first hand. With the solar installations, we cover about 80% of our total annual power requirements while cutting our electricity costs at the same time – without major upfront investment."
The power plants consists of more than 8,200 solar modules installed on 4.7 kilometers of Conergy SolarLinea mounting systems. They will produce nearly 4.3 million kilowatt hours of energy each year. This is the same amount of energy as needed by 43,000 laptops running 8 hours a day for one year.
Anthony Fotopoulos, Managing Director of Conergy USA added. "In many regions of the USA, grid parity has been achieved for end consumers, and solar power is already considerably cheaper today than power from the grid. Local consumption via power purchase agreements is the future of the American electricity market.
"With this electricity market model, end consumers benefit from considerable electricity cost savings from the green power – without substantial upfront costs. In the sunshine state of California, for instance, around 70% of all solar plants on private homes are already financed by third parties today; in the case of commercial power plants, the figure is over 40% – and the trend is upwards," Fotopoulos concluded.