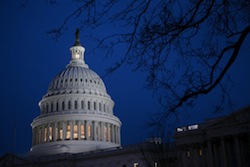 Somebody in Washington must be looking out for biofuels. On the heels of the full U.S. Senate passing the the Farm Bill and its provisions friendly to biofuels (including $38 million for the Biomass Crop Assistance Program, about $160 million for the Biorefinery, Renewable Chemical, and Biobased Product Manufacturing Assistance program, and possibly up to $88 million for the Rural Energy for American Program), the Senate Armed Services Committee has stopped attempts that would have curtailed the military's biofuels program.
The move gained the praise of the Advanced Biofuels Association's president Michael McAdams:
"The Advanced Biofuels Association applauds the Senate Armed Services Committee for their leadership in supporting the Department of Defense initiatives in advanced biofuels. The Senate continues to recognize the mission value of investments in biofuels that meet multiple national security objectives, and contribute to growing jobs in American agriculture and technology."
Of course, both of these bills are still to pass both the full House and Senate and the inevitable joint committees to hash out the differences. Both of these might have been wins for biofuels, but the war's not over. Stay tuned.