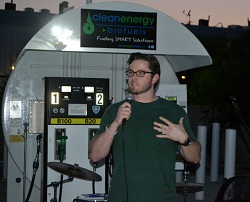 A Georgia-based biodiesel maker is celebrating its first year in business for its retail station. Atlanta's Clean Energy Biofuels, which touts its biodiesel as the only in the country that is made using 100 percent solar power, threw a party for the one-year anniversary of the opening of their retail biodiesel station by hosting Atlanta Green Drinks, a monthly networking gathering for people interested in sustainability, green business, environmental and social causes, architecture and design, organics, renewable energy:
Over the past year we have had the pleasure of providing fuel to a wide range of drivers, from local residents to landscape companies to cross country travelers – Woody Harrelson and New Belgium Brewing Company's Tour de Fat, just to name a few. Everyone who provides grease or purchases our fuel has been key to our success this year. By using the fuel from our retail station, you are helping prevent carbon dioxide from being emitted into the air, making a real difference in the environment.
Our biodiesel is the only biodiesel in the country produced using 100% solar energy. It is also completely locally sourced, meaning that every cent is pumped right back into the Georgia economy. Our biodiesel also meets the American Society for Testing and Materials (ASTM) International Standard, which ensures quality and consistency that rivals conventional diesel.
The company also touts their turning of old grease into biodiesel as a way to lift a "burden on our landfills and sewers into the greenest transportation fuel available."
Check out the pictures from the event on Clean Energy Biofuels' Flickr page.