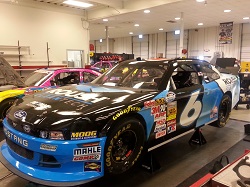 Alternative fuel vehicle technology leader ROUSH CleanTech is getting out the message about the beauty and performance of propane with some recent big victories and upcoming milestones on the NASCAR racetrack. Roush Fenway Racing's (RFR) Trevor Bayne won a dramatic victory in the NASCAR Nationwide Series (NNS) at Iowa Speedway; earning Ford's 200th win in the NNS. And now the No. 6, ROUSH CleanTech-bedecked Ford Mustang is shooting for Ford's 1,000th NASCAR win at the Michigan International Speedway this week.
"I haven't run a Nationwide car at Michigan since they repaved it, but the Sprint Cup cars are unbelievably fast," said Bayne.
"We are thrilled to have ROUSH CleanTech's message of clean and economical propane autogas hit the track with Trevor as he hopefully continues his winning streak," said Joe Thompson, president of ROUSH CleanTech. "Across the nation, a growing number of fleets operate on this readily available and domestically produced alternative transportation fuel."
ROUSH CleanTech officials point out that propane autogas is the most commonly used alternative fuel in the nation, operates school buses, trucks, vans and taxis.
Good luck on Saturday in Michigan!