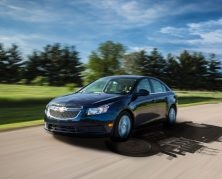 Previously, we told you about how fuel efficient the biodiesel-capatible 2014 Chevy Cruze is. Now, Chevy is reminding us that the little car with the big green heart in the form of a Clean Turbo Diesel also packs a pretty powerful wallop under the hood using what the company calls "overboost," while still maintaining that great MPG:
Cruze Diesel's turbocharged 2.0L engine delivers a segment-leading SAE-certified 151 horsepower (113 kW) and 264 lb-ft of torque (358 Nm), but overboost can increase torque to 280 lb-ft (380 Nm) for about 10 seconds of stronger acceleration. That's the equivalent torque delivered by the 1972 Camaro Z28's heavier 5.7L V8.
Unlike the muscle car era, Cruze Diesel marries that quick burst to a segment-leading EPA-estimated 46 mpg highway, and demonstrated range of 717 miles on one tank of fuel.
"Overboost provides increased performance when the driver demands it, like when passing on the highway," said Mike Siegrist, GM 2.0L diesel assistant chief engineer. "When the driver leans on the throttle, the turbocharger increases the air and fuel intake over and above what the engine needs for normal torque demand."
Chevy says the Cruze Diesel can sprint from 0 to 60 in about 8.6 seconds – half a second faster than its chief competitor, the 2013 Volkswagen Jetta 2.0L TDI. It sports a lightweight aluminum cylinder head and aluminum intake manifold that help with the car's ability to deliver balanced ride and handling.
"Cruze's turbo-diesel engine is powerful, efficient and clean," Siegrist said. "It will change perceptions of what a diesel car can be while giving customers another fuel-efficient choice in the Chevrolet lineup."