The Quartzsite Solar Energy Project located in La Paz County, Arizona has received approval from the U.S. Secretary of the Interior to proceed. The 100 megawatt project will be located on Bureau of Land (BLM) managed land. The Quartzsite Project will be utilizing SolarReserve's concentrated solar power (CSP) technology with integrated storage which allows the facility to operate like a conventional power plant.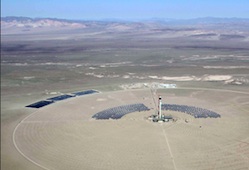 "These projects reflect the Obama Administration's commitment to expand responsible domestic energy production on our public lands and diversify our nation's energy portfolio," Secretary of the Interior Sally Jewell said. "Today's approvals will help bolster rural economies by generating good jobs and reliable power and advance our national energy security."
With more than $600 million of direct investment in Arizona, the Quartzsite Solar Energy Plant will generate approximately 440 jobs during peak construction and 50 full-time jobs for operations and maintenance. In addition, the project is expected to create local economic stimulus in the form of $15.7 million in sales tax during the construction period, with construction spending injecting another $46.3 million into the local and regional economy.
"The BLM has done a tremendous job of administering a rigorous and fair permitting process for this project," said Kevin Smith, CEO of SolarReserve. "We appreciate the agency's support of this and other renewable energy projects that are critical to reducing harmful emissions from conventional power plants while creating real employment opportunities. The Quartzsite project will be SolarReserve's second major project successfully permitted on BLM land which demonstrates that industry and government can collaborate effectively."
The Quartzite Solar Energy Project has completed all major permitting necessary for advancing the project into construction and is actively engaged in power marketing efforts. The project is slated to begin construction in 2014, once a Power Purchase Agreement has been contracted and financing for the project complete.