Groups in Colorado are not happy with the new law that Governor John Hickenlooper signed, SB13-252, that mandates 20 percent of all electricity used by rural Colorado come from renewable sources. Hickenlooper signed an executive order relating to the measure that create an advisory committee to the Director of the Colorado Energy Office on the effective of SB13-252.
The Colorado Farm Bureau is one group and Don Shawcroft, president, said his organization is disappointed to see the Governor sign a measure that will put an unnecessary burden on many Colorado farmers and ranchers in rural communities. "This mandate will cost agricultural producers millions of dollars, and may put many family farms out of business."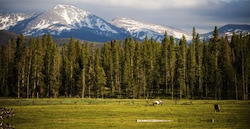 Shawcroft said no voices from the agriculture community were included in the committee and its is very disconcerting that the Governor did not acknowledge the ag industry but putting a farmer or rancher on the advisory committee.
Several Colorado counties are also up in arms and are considering forming a 51st state called North Colorado. The Denver Post reports that a proposal to separate Weld, Morgan, Logan, Sedgwick, Phillips, Washington, Yuma and Kit Carson counties from the rest of the state was hatched at a meeting of county commissioners last week.
According to state commissioners, efforts of the state to crack down on oil and gas as well as increases in rural renewable energy standards were "the straws that broke the camel's back." Of the counties affected, two of their main economic drivers are energy and agriculture.
These are also concerns of Shawcroft who said that the measure fails to put agriculture, the biggest consumer of energy in rural Colorado at the table. "We tried to talk to him about our concerns and how this will affect agriculture, but yet again, he didn't include us in the ongoing conversation," Shawcroft concluded.