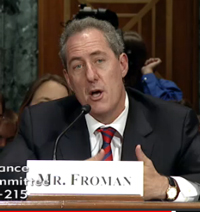 The issue of the European Union's treatment of ethanol imports from the United States came up during a Senate Finance Committee nomination hearing Thursday for U.S. Trade Representative (USTR) nominee Michael Froman.
Sen. John Thune (R-SD) noted that he and a number of other senators sent a letter in April to the Acting USTR asking for an investigation into the anti-dumping decision made by European Union regarding ethanol imports from the United States. "American ethanol producers believe that what the EU has done in imposing a countrywide anti-dumping duty on all U.S. ethanol imports is both unprecedented and unsupported from a legal standpoint," Senator Thune said.
Forman answered in the affirmative when the senator asked him if he would commit to "carefully reviewing the EU's action on ethanol" and pursue "every available remedy to ensure that U.S. ethanol exporters are treated fairly by the EU."
The nominee said he was familiar with the issue and that his understanding is that "USTR is reviewing the methodology that the EU used in that case."
Froman currently serves as the White House deputy national security advisor for international economic affairs.