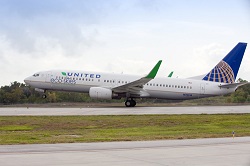 Flying giant United Airlines signs an agreement with aviation biofuel provider AltAir Fuels to buy 15 million gallons over three years with options for more of sustainable aviation biofuel to be used on flights from Los Angeles starting in 2014. This United news release says the move is expected to cut greenhouse gases from the flights in half:
With United's strategic partnership, AltAir Fuels will retrofit part of an existing petroleum refinery to become a 30 million gallon, advanced biofuel refinery near Los Angeles, Calif. AltAir will produce low-carbon, renewable jet fuel and other renewable products. United has collaborated with AltAir Fuels since 2009…
"This is a great day for United and the aviation biofuels industry. This agreement underscores United's efforts to be a leader in alternative fuels as well as our efforts to lead commercial aviation as an environmentally responsible company," said United's Managing Director for Global Environmental Affairs and Sustainability Jimmy Samartzis. "We're excited about what this strategic partnership with AltAir means for United, the industry, the environment, and for our customers."
"United Airlines has been a strategic partner for several years as we work to establish our biofuel facility," said AltAir's Chief Executive Officer Tom Todaro. "We cannot overestimate how important this milestone is for the commercialization of sustainable aviation biofuels, and we at AltAir are proud that United is our first customer."
AltAir is taking idled refining equipment and retooling for biofuels purposes. The company is using Honeywell's Green Jet process to become the first refinery internationally to be capable of in-line production of both renewable jet and diesel fuels.The facility will convert non-edible natural oils and agricultural wastes into approximately 30 million gallons of low-carbon, advanced biofuels and chemicals per year.
United Airlines is part of the Sustainable Aviation Fuel Users Group, an association that represents about a third of commercial aviation fuel demand and works for the advancement of drop-in aviation biofuels.