Kansas-based ICM Inc. announces a new process that promises to enhance yields and oil recovery for ethanol plant, while expecting to also produce the higher value Renewable Identification Numbers (RINs) for the fuel that comes from those plants. In an interview with Joanna in advance of next week's Fuel Ethanol Workshop in St. Louis, Mo., Kurt Dieker, ICM's Director of Product Development, said their new integrated technology, dubbed Generation 1.5 Integrated Fiber to Cellulosic Ethanol Technology, will help produce cellulosic ethanol at existing grain ethanol plants.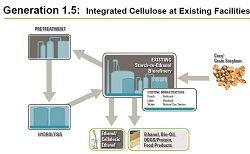 "We have an enabling technology that is a yield-enhancing technology for starch-based ethanol that goes into our platform that enables us to concentrate and clean up the fibers taken out of the normal stream," Kurt said. Then, they take that to their Generation 1.5 technology to boost the yields of ethanol. "The payback is a yield enhancement of 5-6 percent, as well as an oil enhancement of 20-50 percent higher rates [because] the technology frees up more starch for fermentation and release from mechanical bond from the germ itself to be later separated."
The technology development was funded by a U.S. Department of Energy grant, and Kurt said the technology can be easily added to a current ethanol operation, boosting overall yields by as much as 10 percent. In addition, he believes the fuel produced from this process, made at a 60 percent reduction in the typical ethanol plant's greenhouse gas emissions, will soon be approved as a cellulosic ethanol eligible for higher value RINs.
"If the EPA rules that the RINs should be given, then the value of the ethanol should be higher," while also intensifying the protein in the co-products [such as dried distillers grains] and allows more oil to be taken off, Kurt said. Even if it doesn't get the EPA approval, the net 10 percent increase in value for an ethanol plant would make it worth it.
Kurt said the technology is ready to go into standing ethanol plants today. He says ICM will be at next week's FEW in St. Louis and ready to answer what he expects to be a lot of questions from ethanol producers there.
"If people are interested in talking about it, we're definitely interested in talking to customers on how we can add value to their plants and their bottom lines."
Listen to Joanna's interview with Kurt here: Kurt Dieker, ICM