The American Petroleum Institute (API) filed a brief with the Supreme Court this week regarding the Environmental Protection Agency's (EPA) approval of a blend of E15, 15 percent ethanol and 85 percent gasoline.  API claims that the ethanol fuel blend has been shown to damage millions of cars on the road.
"E15 could leave millions of consumers with broken down cars and high repair bills," said Bob Greco, API group downstream director. "It could also put motorists in harm's way when vehicles break down in the middle of a busy highway. We are asking the Supreme Court to step in and protect consumers by striking down EPA's dangerous E15 mandate before it's too late. "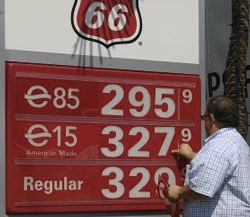 Greco went on to say that ethanol and other renewable fuels play an important role in our transportation fuel mix, but we cannot allow a mandate for ethanol that exceeds what is safe for consumers. He is asking for the EPA to immediately finalize the 2013 ethanol mandate and lower the 2014 mandate.
The ethanol industry has been fighting claims that ethanol damages engines for many years even though E15 is the most tested fuel in the history of the U.S. Ron Lamberty, senior vice president for the American Coalition for Ethanol (ACE) said of API's latest attempt: "API is basically presenting evidence to prove they will do whatever they can to keep from having to compete with any other fuels."
"Big Oil will take any approach available to delay E15 implementation while continuing its public smear campaign against it," continued Lamberty. "API's press statement – ostensibly about their court petition – is instead a replay of anti-ethanol misinformation campaign "greatest hits" which have nothing to do with the legal issues continued in their appeal."
Lamberty pointed out that EPA did its due diligence before approving E15. He concluded, "The DC Circuit Court was right to throw out Big Oil's legal challenge, and the Supreme Court should reject this appeal as well."