Naval Support Activity (NSA) Mid-South officially welcomed into service the Navy's first solar-powered electric car charging station with a ribbon cutting ceremony. During the ceremony NSA Mid-South Executive Officer Cmdr. Brad Meeks thanked the combined Naval Facilities Engineering Command (NAVFAC) and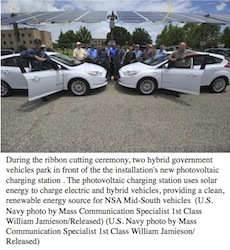 Commander, Navy Installations Command (CNIC) team that brought the station online. He noted that the new photovoltaic carports are a sign of how the base is evolving to face new challenges.
"Naval Support Activity Mid-South is leading the way," said Meeks. "This is the first solar power charging station in the Navy, and I want to thank our NAVFAC public works team for seeing this project through. Their efforts have ensured NSA Mid-South's role in building a clean, sustainable future for our Navy and our nation."
The carport will enable NSA Mid-South to recharge its current fleet of 17 electric vehicles with renewable electricity in approximately four hours, while reducing demand on the commercial power grid. In addition to charging vehicles connected through either 110V or 220V plugs, the carport will also provide excess electricity to the local power grid, further reducing the base's electricity costs. The 150-foot-long panel structure tilts automatically to track the sun and includes several safety features to protect against high wind or lightning strikes. So far, the energy generated is enough power more than 60 average sized homes for a day.
Public Works Department Mid-South will monitor the carport's production via a Web-based system and will rely on the base operations support contractor to maintain the individual solar arrays and components over its expected 25-year lifespan. The carport is part of an ongoing $10 million CNIC project to install seven sites with E85 (85% ethanol / 15% gasoline) stations, nine sites with solar carports and five sites with stand-along electric vehicle charging stations and Navy installations.