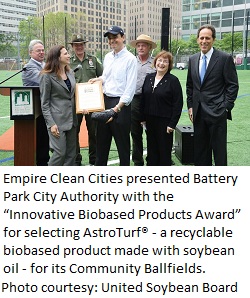 Farmers and folks from the city might not have a lot in common (although more than most people realize), but they're united by their love of biodiesel. This week, the United Soybean Board (USB) and Empire Clean Cities are recognizing New Yorkers' efforts to reduce dependence on foreign oil, while going green and creating American jobs.
"America's soybean growers are excited to support many positive connections and products that bring benefits to New York City residents," said Sharon Covert, an Illinois farmer and USB Customer Focus Action Team chair. "New York is a leader with biodiesel used in thousands of vehicles and buildings. Now soy-backed turf is newly installed at Battery Park and New York's first LEED Gold certified restaurant chose soy-backed carpet. The United Soybean Board is pleased state-of-the art products, such as biodiesel, Signature Carpet and AstroTurf, use soy as a rapidly renewable ingredient for sustainability."
"Empire Clean Cities has long supported biodiesel and Bioheat® in New York so biobased products are a natural next step for our efforts to reduce petroleum dependency and improve the environment for all of us who live and breathe in this region," said Executive Director Christina Ficicchia. "New York's environmental and energy goals converge with America's soybean farmers and the companies that are inventing exciting new uses of soybeans."
New York's greenhouse gas reduction strategy includes use of biodiesel and Bioheat® (biodiesel blended with heating oil). The Port Authority of New York and New Jersey as well as New York Parks and Recreation use biodiesel in thousands of vehicles. The City's B2 mandate for Bioheat® went into effect in Oct 2012.
This week marks USB's first biobased products outreach in New York City.