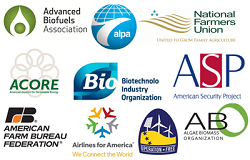 Groups representing biofuels and farm interests are praising the Pentagon's action to develop cheaper, drop-in biofuels. Michael McAdams, president of the Advanced Biofuels Association, says the $16 million awarded under the Defense Production Act is a significant step in supporting efforts to build commercial drop in fuels facilities:
"Biofuels offer outstanding performance and environmental sustainability, while also providing a diversity of fuels that increases security for the men and women serving in our armed forces. The vision of the military once again leads the world in the evolution of fuels, and is one that should be supported and admired by all."
Another coalition of groups, including the Advanced Biofuels Association, as well as the Algae Biomass Organization, American Council on Renewable Energy, American Farm Bureau Federation, the Biotechnology Industry Organization (BIO), and the National Farmers Union, among others, echoed those sentiments:
"Adopting advanced "drop-in" biofuels will help the DoD and the nation achieve its broader national security goals," the groups said. "As the largest institutional consumer of liquid fuels in the world, the U.S. military is incredibly susceptible to the volatile global oil market. The DoD estimates that every 25 cent increase in the price of a gallon of petroleum-based fuel costs the military $1 billion in additional fuel costs. It is increasingly important to find domestically produced alternatives to improve the country's energy security, meet global energy demands, and provide jobs, while strengthening our military and domestic economy.
"By pursuing new processes and technologies for producing next-generation biofuels, we are working to accelerate innovation in a critical and growing sector that will help to improve U.S. energy security and sustain the U.S. military's readiness."