This Memorial Day, the Renewable Fuels Association (RFA) is reminding drivers that ethanol can help save money at the pump. As national gas prices continue to rise, the national average today is $3.66 according to GasBuddy.com. For drivers living on the coasts, it's not uncommon to see high gas prices. Yet the oddity this year is that the highest prices in the nation last week were in Minnesota. According to various media reports, the statewide average is $4.26 per gallon.
"It is getting painful yet again to stand at the pump and watch the dollars fly by," said Bob Dinneen, president and CEO of RFA. Thankfully, ethanol exists to help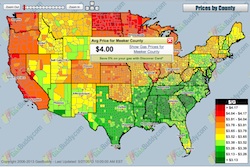 lower prices, stretch the gasoline supply, and provide both engine and environmental benefits. On a larger scale, the ethanol industry is a high octane economic engine that is supporting more than 365,000 jobs across America, revitalizing challenged rural communities, and reducing the American dollars sent overseas to buy petroleum from often hostile dictators in oil-rich countries."
According to 2012 updated research conducted by economics professors at the University of Wisconsin and Iowa State University for the Center for Agricultural and Rural Development (CARD), domestically-produced ethanol reduced wholesale gasoline prices by an average of $1.09 per gallon in 2011. That is an additional 20-cent savings over the $0.89 these same economists recorded in 2010.
It is expected that drivers in Iowa may also soon be hit with increased costs. Once again, ethanol, this time in the form of E85 (85 percent ethanol, 15 percent gasoline) that is widely available in the Corn Belt, is delivering significant savings to owners of flex-fuel vehicles.
Dinneen added, "I suspect owners of flex-fuel vehicles will enjoy their summer driving vacations a bit more than other drivers. The savings that flex-fuel drivers will enjoy is significant."