Electric vehicle manufacturer Tesla Automotive has repaid its entire $465 million DOE loan guarantee the company received from the U.S. Department of Energy (DOE) nine years earlier than originally required. New Energy Secretary Ernest Moniz said of the feat, "When you're talking about cutting-edge clean energy technologies, not every investment will succeed — but today's repayment is the latest indication that the Energy Department's portfolio of more than 30 loans is delivering big results for the American economy while costing far less than anticipated."
The program came under fire in 2011/2012 when solar manufacturing company Solyndra filed for Chapter 11 bankruptcy and ceased all operations after receiving a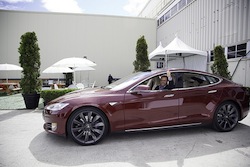 significant amount of loans and grants from the DOE. Yet Moniz noted that more than 90 percent of loan loss reserve Congress established remains intact with losses only representing about 2 percent of the overall $34 billion portfolio.
"The Department first offered loans to Tesla and other auto manufacturers in June 2009, when car companies couldn't get other financing and many people questioned whether the industry would survive," continued Moniz. "Today, Tesla employs more than 3,000 American workers and is living proof of the power of American innovation.  This is another important contribution to what the Obama Administration has done to preserve and promote America's auto industry.
"Finally, this announcement is also good news for the future of America's growing electric vehicle industry.  While the market has taken longer than predicted to get going, sales of electric vehicles in the U.S. tripled last year and are continuing to increase rapidly in 2013.  Tesla and other U.S. manufacturers are in a strong position to compete for this growing global market," Moniz concluded.
Tesla's $465 million loan enabled it to reopen a shuttered auto manufacturing plant in Fremont, California and to produce battery packs, electric motors, and other powertrain components. Tesla vehicles have won wide acclaim, including the 2013 Car of the Year from both Motor Trend and Automotive Magazine, and Consumer Reports recently rated Tesla's Model S as tied for the best car ever rated. Tesla has created more than 3,000 full-time jobs in California – far more than the company initially estimated – and is building out a supply chain that supports numerous additional jobs and technologies, and is bringing advanced manufacturing technology back to America.