EMCORE Corporation has been awarded a contract by ATK to design and manufacture solar panels for NASA's Green Propellant Infusion Mission (GPIM) planned for launch in 2015. The solar panels include EMCORE's most advanced XTJ triple-junction solar cells, and will power a satellite that will carry the GPIM payload. ATK will integrate the EMCORE's solar panels into its heritage-designed solar arrays for final flight configuration for the GPIM satellite.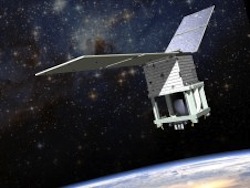 One goal of the GPIM project is to demonstrate the practical capabilities of AF-M315E, a high-performance green alternative to hydrazine that has traditionally been used to fuel several spacecraft. This low-toxicity propellant is expected to improve overall vehicle performance – more fuel can be stored in current containers and it delivers greater thrust per given quantity of fuel.
"ATK is pleased to be providing the solar arrays for the GPIM project to Ball Aerospace, and we look forward to another successful collaboration with EMCORE in support of this innovative program," said Dave Messner, General Manager of ATK Space Systems in Goleta, Calif.
GPIM is supported by co-investigators including NASA's Glenn Research Center and the U.S. Air Force Research Laboratory at Wright-Patterson Air Force Base in Ohio; Aerojet Corporation, a GenCorp company in Washington; NASA's Kennedy Space Center in Florida; and the U.S. Air Force Space & Missile Systems Center at Kirtland Air Force Base in New Mexico.
"EMCORE is extremely pleased and honored to receive this program award from ATK," added Brad Clevenger, Ph.D., General Manager of EMCORE's Photovoltaics Division. "EMCORE has partnered with ATK on many successful missions, and we greatly value our long-standing business relationship. We look forward to supporting ATK on the Green Propellant Infusion Mission."