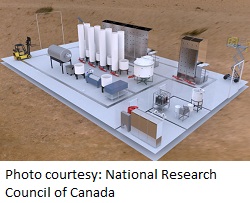 A joint project between the National Research Council of Canada (NRC) and industry partners could result in technology to grow algae to be made into several items, including biodiesel, in the heart of the Canadian petroleum industry: oil sands facilities.
The Algal Carbon Conversion Pilot Project, a partnership among the National Research Council of Canada (NRC), Canadian Natural Resources Limited (Canadian Natural) and Pond Biofuels, will result in the construction of a unique, $19 million facility in Alberta.
"This discovery has tremendous potential to benefit our environment and our economy, and further establish Canada as a leader in managing CO2 emissions," said the Honourable Gary Goodyear, Minister of State (Science and Technology). "What the results of this project could mean for the future of the oil sands and Canadian businesses makes this a significant day for Canada."
In the coming months, a demonstration-scale algal biorefinery will be established at Canadian Natural's Primrose South oil sands site, near Bonnyville, Alberta. This facility will recycle industrial emissions from their oil sands facility by using carbon dioxide to grow algal biomass, which will undergo further processing into products, such as biofuels, livestock feed and fertilizer.
Officials say the project will lessen the oil industry's carbon footprint, while marking this unique partnership between fossil fuels and renewable industries.