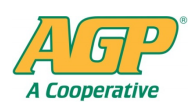 Ag Processing Inc a cooperative (AGP) announced it has permanently shut down operations of its corn processing plant at Hastings, Nebraska. The plant had been on an extended shutdown since February 1, 2013 amid challenging economic conditions. At that time, the company said it would continue to evaluate the future of the plant. This week the decision to permanently close the corn processing operations was made public.
The cooperative also operates a soybean processing plant, a vegetable oil refinery and an AminoPlus production facility at its industrial complex in Hastings. Company officials reiterated that those operations will not be impacted by the closing of the ethanol plant operations.
AGP is the largest farmer‐owned soybean processor in the world, is owned by 178 local and regional cooperatives representing over 250,000 farmers from 15 states throughout the United States. Corporate headquarters are located Omaha,Nebraska.