As Memorial Day approaches marking the beginning of summer driving season, gas prices have spiked. Last week, gas prices went up .19 cents per gallon in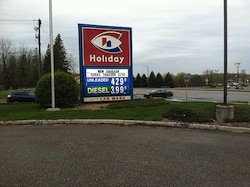 Iowa with ending average prices at $3.70 per gallon. Spikes were even higher in Minnesota/St. Paul with prices averaging $4.21 across the state while the national average is around $3.60 per gallon.
In response Absolute Energy, an ethanol plant located on the Iowa-Minnesota border, is offering Minnesota drivers some relief at the pump in the form of ethanol. Absolute Energy is offering E85, (85 percent ethanol / 15 percent gasoline), in bulk to gas marketers impacted by the recent shut-down of three oil refineries for mostly seasonal reasons. According to E85Prices.com this week, the published average statewide E85 price is averaging $3.08 and has been reported to be as low as $2.39 per gallon in Eagan, Minn.
Rick Schwarck, CEO of Absolute Energy, said, "With gas prices spiking and ethanol plentiful in the Midwest, this will be the summer of the flex-fuel vehicle. Drivers of FFVs should be able to take advantage of serious savings at the pump by using E85. Not only will they be saving money, they will be choosing a fuel alternative that creates jobs and opportunities throughout Minnesota, Iowa and other states. E85 will drive us toward a cleaner, brighter summer sky thanks to lower greenhouse gas emissions while also strengthening our national security and economy."