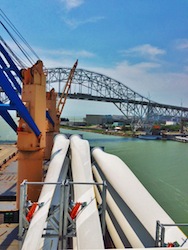 Port Corpus Christi is a leader in import facilities for major manufacturers including wind energy component cargo from global markets. But the wind is changing course. New wind energy market trends have created a reverse trade this year, and on May 18, 2013, wind components destined for export markets were loaded at Port Corpus Cristi for the first time.
Vessel carrier NYK-Hinode's m/v Kuwana loaded 36 Mitsubishi wind blades destined for Japan at Port Corpus Christi's cargo dock 9. The operation marks a first-time export opportunity for wind cargo components via the Port. The blades were staged at Mitsubishi's laydown yard located in Santa Teresa, New Mexico and manufactured in Ciudad Juárez, Mexico. In April, the blades were trucked from New Mexico to a Port Corpus Christi open storage area to await the export operation.
"The Port anticipates additional wind cargo export opportunities within the upcoming months. We continue our commitment to better serve the logistics of wind energy markets," said John LaRue, Executive Director, Port Corpus Christi.