During the Caribbean Conservation Summit held on Necker Island, Saint Lucia announced that it will join Carbon War Room's Ten Island Challenge. The event was co-hosted by Sir Richard Branson, the Prime Minister of Grenada and the Premier of the British Virgin Islands.
"Solving the energy challenge and marine conservation challenge in the Caribbean go hand-in-hand. I am very pleased that  Saint Lucia has decided to join the Challenge –  and hope more neighbouring islands will follow," said Sir Richard Branson, Founder of Virgin.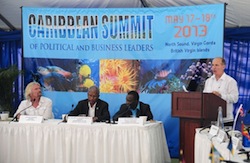 Launched at Rio+20 Summit last June the Ten Island Challenge is working with pioneering island economies to reduce dependency on fossil fuels through the acceleration of commercial opportunities on islands. The Challenge is also attracting engineering firms and investment.
"We are joining the Ten Island Challenge because it is consistent with the goals of our government to develop a renewable energy sector and transition to a Green Economy," said James Fletcher, Minister of Sustainable Development & Energy, Saint Lucia.
Saint Lucia is focusing its efforts to transition off fossil fuels through a range of initiatives from renewable energies as well as waste and water efficiency. Although sustainability and low carbon plans aren't new to island economies, successful implementation is. The Ten Island Challenge will highlight the opportunities on the island and Carbon War Room will reach out globally for the best solutions and most competitive bids. Saint Lucia joins its Caribbean neighbor, Aruba – who signed up for the challenge in 2012.
Jose Maria Figueres, President of the Carbon War Room, added, "We want to develop a renewables ' blueprint ' using those islands that are ready today – and provide replicable models for many more communities isolated by water, desert or just distance from the grid."