Synthetic Genomics (SGI), has entered into a new co-funded research agreement with ExxonMobil to develop algae biofuels. The new agreement is a science research program that focuses on developing algal strains with significantly improved production characteristics by employing synthetic genomic science and technology. Financial details of the agreement were not disclosed.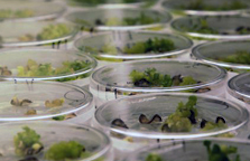 "We look forward to working with ExxonMobil to undertake this in-depth focus on the basic science research to better understand and enhance algae," said J. Craig Venter, Ph.D., SGI's founder and chief executive officer.  "The new agreement gives us an opportunity to really focus on improving algal strains using our core synthetic biology technologies to develop biofuels."
In June 2009, SGI and ExxonMobil announced a research and development alliance focused on naturally occurring and conventionally modified algae strains. According to a news release, during the past four years, the companies have gained considerable knowledge about the challenges in developing economical and scalable algae biofuels. SGI also made significant strides in understanding algae genetics, growth characteristics, and enhancements to algae to improve algal biomass and lipid productivities.
According to SGI, this new agreement places greater emphasis on basic scientific research to develop strains which reproduce quickly, produce a high proportion of lipids and effectively withstand environmental and operational conditions. The company currently has two facilities – a smaller scale research greenhouse and laboratory near the SGI campus in La Jolla, CA, and a larger-scale development and commercial production facility with closed photobioreactors, open ponds and product recovery unit operations in Imperial Valley, CA.