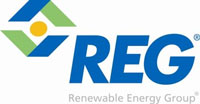 It appears biodiesel giant Renewable Energy Group (REG) has inked a contract manufacturing agreement with an Iowa biodiesel maker. Biodiesel Magazine reports REG signed the 12-month contract with Iowa Renewable Energy LLC to purchase raw materials for the 30 MMgy multifeedstock plant and market biodiesel produced at IRE's refinery.
"We are pleased REG has chosen to work with Iowa Renewable Energy," said Ron Lutovsky, IRE's chief operations officer and chief financial officer. "Our focus on fuel specifications and our BQ-9000 processes are aligned with REG's commitment to biodiesel quality."
Biodiesel from the IRE facility will be used to meet growing national and regional demand according to Gary Haer, REG's vice president of sales and marketing. "We are working closely with the IRE team to include their gallons with biodiesel from our existing REG plant network to fulfill new and existing contracts."
"IRE's processing technology allows REG to expand our diverse raw material procurement strategy as well as our transportation and logistics programs to meet our growing customer demand," said Dave Elsenbast, REG's vice president of supply chain management.
REG was the actual general contractor and technology provider for the construction of the IRE facility back in 2007.