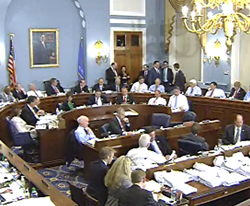 The House Agriculture Committee passed the Federal Agriculture Reform and Risk Management Act (FARRM) of 2013 by a vote of 36 to 10 late Wednesday night. While the bill does contain an energy title, an amendment to make funding of energy programs mandatory was defeated.
"We thank the entire committee for reauthorizing the programs, but mandatory funding is vital to their continued success. We look forward to working with all Congressmembers and Senators to ensure that a Farm Bill gets enacted this year that includes mandatory funding for these important programs," said Brent Erickson, executive vice president of BIO's Industrial & Environmental Section.
The Senate version does contain mandatory funding for renewable energy and energy efficiency programs. "We thank the members of the Senate Agriculture Committee, especially Senator Amy Klobuchar for increasing the funding for the Renewable Energy for America Program, and Senators Joe Donnelly and Pat Roberts for a bipartisan proposal to improve risk management options for biomass crops," said Lloyd Ritter, co-director of the Agriculture Energy Coalition. "We look forward to working with them to ensure the continued success of Farm Bill energy programs."
"Funded farm and energy policy is better: it puts those benefits into action. On that score, we're concerned the House bill missed the mark," Adam Monroe, Americas Regional President of Novozymes, said of the committee bills. "While we appreciate the House Agriculture Committee reauthorizing the biomass programs, we urge them to follow the Senate committee's lead and support a strong, fully-funded energy title."
The Senate bill is expected to go to the floor next week while the House bill is slated for next month.