Progress on a new farm bill is all well and good but defending the Renewable Fuel Standard remains the top priority for the ethanol industry.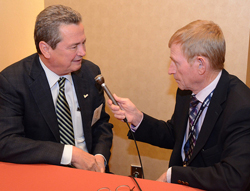 "The attack on the Renewable Fuel Standard is first and foremost and coupled with it is the blend wall," said Growth Energy CEO Tom Buis st the National Association of Farm Broadcasting annual Washington Watch issues forum this week. "Oil has never been a fan of the RFS and they knew this day was coming. As we're up against the 10% blend wall, rather than doing what the law allows and blending higher blends or helping to build out the infrastructure for higher blends to give consumers choice at the pump, they've decided they just want to eliminate it and eliminate competition."
Buis notes that, despite weather challenges this year, corn growers will continue to grow enough corn to meet all needs.
Listen to an interview with Buis here: Interview with Tom Buis, Growth Energy