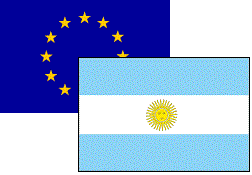 The Argentinians are not sitting by and letting the European Union block their exports of biodiesel. Bloomberg reports the country filed a challenge against the EU with the World Trade Organization:
The EU is studying whether to levy import tariffs on countries including Argentina and Indonesia that may be exporting biodiesel with state aid like it did for U.S.-based ethanol producers in February, Roberto Rodriguez Labastida, a London-based analyst at Bloomberg's New Energy Finance, said today by phone.
"The EU is now collating data on how much specific Argentinean companies are exporting so that if it decides that there's a real threat of dumping it can quickly introduce measures to counter them," Labastida said.
The EU has 60 days to address the complaint, according to the statement. The WTO will publish additional information on the complaint in the next few days, it said.
Argentina levies an export tariff on soybean that sometimes is lower than on biodiesel, the fuel that it's processed into, Labastida said. That may lead to lower prices of the vegetable oil, which offers an advantage to Argentinean biodiesel refineries over European refineries that use the feedstock.
Argentina is the world's largest exporter of soybean biodiesel. It filed a separate WTO complaint against Spain last year when the Spanish decided to use just EU fuel to meet transportation biofuels quotas. Spain reversed that decision.