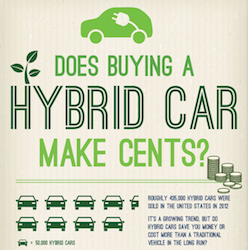 I'm in the market for a new car and one of the areas I have been researching is hybrids. The question: to buy or not to buy a hybrid? I came across this infographic developed by Auto Pawn, that tells the tale of two cars: hybrid versus non-hybrid.
While many factors are considered, one that is not is if the driver is using an alternative fuel such as biodiesel, ethanol, compressed natural gas, propane, etc. Click here for a link to the full graphic.
While I still haven't decided what new car I'm going to drive home soon, this information is definitely worth mulling over….