By a 15-5 vote, the Senate Agriculture Committee sent the Agriculture Reform, Food and Jobs Act of 2013 and its commitment to renewable energy to the full Senate, which could take it up next week. The National Biodiesel Board (NBB) welcomed the move, especially the part that funds the Biodiesel Fuel Education Program to the tune of $1 million a year through 2018, with another $1 million a year in discretionary funding for that same time.
During an interview with Chuck at the National Association of Farm Broadcasters (NAFB) Washington Watch, Anne Steckel vice president of federal affairs for the NBB said she is also hopeful Congress preserves the Renewable Fuels Standard (RFS).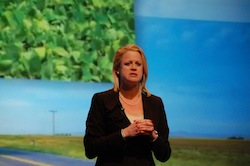 "The RFS is really the backbone of the biodiesel industry," she said. "It's been incredibly successful for our industry, and it's been very beneficial for consumers in general. We're supporting over 50,000 jobs. We're diversifying off foreign oil, and we're helping better the environment."
Steckel went to say that biodiesel enjoys a broad base of bipartisan support in Washington, and she is optimistic that support will continue and help that green fuel sector grow.
"The biodiesel industry is going to continue in its steady growth pattern, [producing] 1.3 billion gallons this year," and the support of the RFS and biodiesel federal tax credit will help the industry and consumers as well.
Listen to Chuck's interview with Anne here: Anne Steckel, NBB