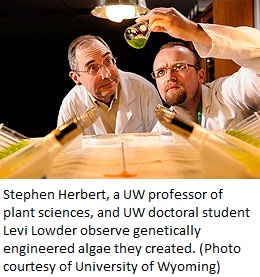 The University of Wyoming has signed a deal that gets it into the algal biomass industry. The school agreed to give PlanktOMICS Algae Bioservices, run by a pair of university researchers, space and support to research how to develop patent-pending processes in exchange for a cut of the profits down the road:
PlanktOMICS principal partners Stephen Herbert, a UW professor of plant sciences, and Levi Lowder, a UW doctoral candidate in molecular and cellular life sciences, will focus on serving small companies that need to solve problems relative to their algae needs.
PlanktOMICS provides advanced phenotype analysis (testing biological traits) and screening services, custom algal vector design and construction, algal transformation and gene-expression analysis, according to its website.
"We're here to solve problems for other companies that want to produce algae at large scales," says Herbert, who serves as the company's CEO. "We see our role as building up research capacity of these small companies that don't have enough capacity for research."
"Our services are tailored to companies that want to outsource their biological studies or biological research," adds Lowder, who is PlanktOMICS' chief technology officer. "We don't really produce the end products. We do the biology. You have to know how to grow algae. That's where we come in, to figure out how to farm algae on a large scale (for other companies)."
PlanktOMICS is working on technologies to control unwanted algae and other microbes in algae ponds, just like corn and soybean farmers control weeds, as well as technology to lower the cost of harvesting of algal biomass, among others. Last year, Lowder's team won the university's John P. Ellbogen $30K Entrepreneurship Competition, getting $12,500 and one year of free rent to further develop the company at the Wyoming Technology Business Center (WTBC), a business incubator at the school. Herbert and Lowder say they already have two clients lined up, one in the algal nutritional supplement business for more than 30 years. The developments could ultimately lead to algae-biodiesel projects.