The Renewable Fuels Association (RFA) today announced that Dawn Schueller Moore has joined the staff as Communications Director. Moore served as Press Secretary to U.S. Senator Herb Kohl of Wisconsin for nearly three years and has publicized issues and events ranging from agriculture, rural development, Supreme Court Justices Sotomayor and Kagan's nomination hearings and Senator Kohl's "No Oil Producing & Exporting Cartels Act" antitrust legislation to help decrease the cost of gasoline.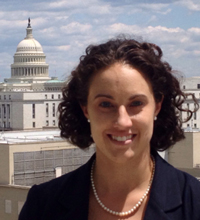 "I've seen firsthand the positive impact ethanol has had in my home state and I know all too well the fight that ethanol has ahead of it in Congress as oil interests bear down to desperately protect their monopoly," Moore said. "I'm anxious to put my press and social media skills to work telling the amazing story of this industry and the Renewable Fuel Standard."
"Dawn is a great addition to our team. With her Midwestern roots and Washington political experience, she has rural America in her blood and politically savvy instincts," said RFA CEO Bob Dinneen. "Besides her valuable Senate experience, she is high energy and enthusiastic about the value-proposition that U.S. ethanol brings to agriculture, economic development, and our country as a stronger, more energy independent nation."
Moore rounds out RFA's communications team led by Christina Martin, Executive Vice President. Moore will be the point person for day-to-day press activities including media inquiries, interviews, and press conferences. She will be actively participating in social media. Look for Dawn Moore on Twitter at @RFADawn.