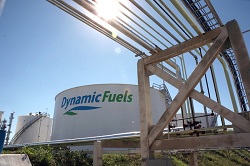 The Dynamic Fuels renewable diesel plant in Geismar, La., idled late last year, soon could be reopened. Biomass Magazine reports that Syntroleum, which has the animal fat and yellow grease renewable diesel plant as a joint venture with Tyson Foods, expects to start up operations once again this summer:
During the call, Gary Roth, president and CEO of Syntroleum, said the company ordered a new catalyst for the plant in February. It is scheduled to for delivery in late June. According to Roth, the new catalyst is expected to increase yields from an average of 80 percent to an average of 88 percent. As a result of the new catalyst, Roth said revenues per gallon would be expected increase from $4.09 to $4.55 per gallon, which would result in a $13 million revenue increase.
Rather than interrupting the feedstock chain of the plant while it is operating, Roth said the company believes it will be better to defer operations until the new catalyst is installed.
Syntroleum officials say the expected stability in D4 biomass-based diesel Renewable Identification Numbers (RINs) through this year and 2014 should help the company's bottom line. The retroactive reinstatement of the biodiesel tax credit also helped profit margins to make the plant viable once again.