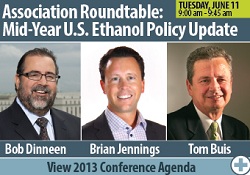 Looks like the discussions are going to kick off right at the upcoming International Fuel Ethanol Workshop & Expo (FEW), June 10-13, 2013, in St. Louis, Mo. One of the first sessions will be the Association Roundtable: Mid-Year U.S. Ethanol Policy Update, featuring moderator Tom Bryan, President, BBI International; Bob Dinneen, President & CEO, Renewable Fuels Association; Tom Buis, CEO, Growth Energy; and Brian Jennings, Executive Vice President, American Coalition for Ethanol, set for Tuesday, June 11 at 9 am:
Join the top executive officers of the Renewable Fuels Association, Growth Energy and the American Coalition for Ethanol for a vital summer policy update on safeguarding RFS2, correcting misinformation about RINs, building the market for E15 and mid-level blends and maintaining our national commitment to commercializing advanced and cellulosic ethanol.
Still plenty of time to make your reservation for the event. Click here for more information.