Wisconsin is the home of eight new E15 pumps. The 15 percent ethanol 85 percent gasoline blend is now offered at SmartStation, 1290 Business Highway 151, Platteville, Wisconsin. The station is a wholly owned subsidiary of Badger State Ethanol.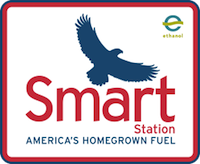 "We are honored to be Wisconsin's first retailer to offer E15 to our customers who have been asking for it," said Erik Hushitt of Badger State Ethanol. "We hope other retailers follow our lead so that consumers around the state have an opportunity to gain access to a cleaner burning fuel that contributes directly to the billion dollar ethanol industry in Wisconsin."
E15 is approved for cars and light duty trucks model year 20o1 or newer. This represents a market of more than 75 percent of vehicles on the road today eligible to use E15. This market also represents 85 percent of the unleaded fuel sold across the country.
"We congratulate Badger State Ethanol and Wisconsin's ethanol industry for working together to bring E15 to the Wisconsin market," said Joshua Morby of the Wisconsin Ethanol Coalition, an organization that helps retailers interested in selling E85 navigate the process. "E15 offers retailers a chance to set themselves apart by offering a new, exciting fuel to their station that not only confirms their commitment to domestic renewable fuels but also offers them a competitive advantage."
Morby added, "We expect retailers around the state to take notice of the demand by consumers for cheaper, cleaner, more homegrown E15."