The American Coalition for Ethanol (ACE) along with Michael Best & Friedrich LLP (Michael Best) are hosting a webinar series focused on pressing legal issues facing ethanol producers. The first webinar focused on compliance issues with federal Health Care Reform in 2013. The 30 minute webinar, says ACE Executive Vice President Brian Jennings, will be a valuable resource for the ethanol industry.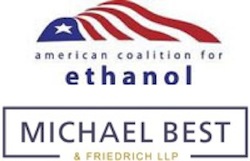 "With so many demands on our members' time, we are pleased to team up with ACE member Michael Best to sponsor this series of webinars providing ethanol producers with useful and timely updates on important legal issues," said Jennings.
Porter J. Martin, Michael Best partner, describes the webinar series as an approachable way to communicate information every ethanol producer needs in the most efficient way. "The webinars are based on our experience representing ethanol producers and other industry clients. The goal is to provide participants with a basic understanding of potential legal challenges they may face in their business and prepare them to make educated decisions in the future," said Martin.
Future webinar topics include, long-term compliance with health care reform (2014 and beyond), intellectual property concerns, OSHA inspections, State and EPA enforcement activities, negotiating air permits, employee wage and hour matters, and others. You can access the first webinar here.